Find out what is new with this blog post from Nickresorts.com!
You've waited. You've wondered. You've scoured through Slime in search of a sneak peek. At last, the time has finally come. The brand-new Nickelodeon Hotels and Resorts Riviera Maya now taking reservations. Plus – don't miss out on our exclusive opening rates.
The all-inclusive Riviera Maya, Mexico resort is a five-star experiential paradise that will have Nickelodeon fans of all ages bubbling over with excitement. Where is Riviera Maya, you ask? Why, it's just 17 miles south of the Cancun International Airport (CUN).
Nickelodeon Hotels & Resorts Riviera Maya, managed by Karisma Hotels & Resorts, offers a safe, fun-filled escape with COVID-19 Peace of Mind safety measures. Karisma has partnered with seven leading health and wellness organizations to elevate their cleaning protocols, which go above and beyond hospitality standards and extend to every aspect of your stay.
Your Caribbean adventure kicks off as soon as you step into the resort lobby. There are playful surprises everywhere! From the golden pineapple photo op to TV show artwork gleaned from Nickelodeon's extensive archives, this new hotel in Riviera Maya has so much to offer. Let's jump in!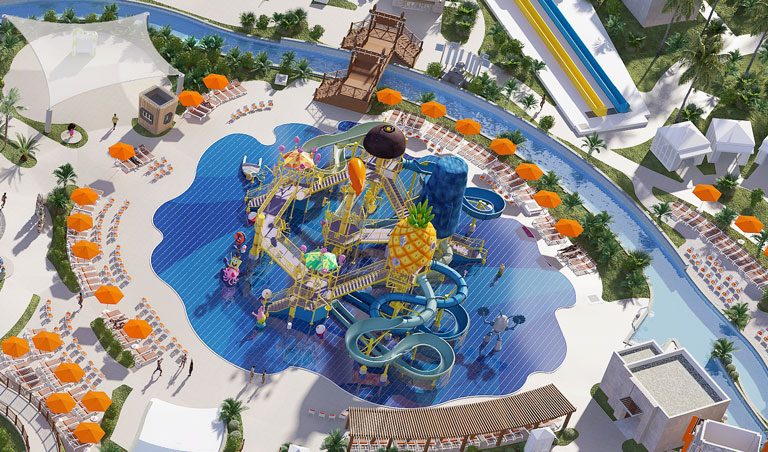 RIVIERA MAYA'S AQUA NICK WATERPARK IS A LARGER-THAN-LIFE, ACTION-PACKED ATTRACTION
6 Acres. Lush tropical gardens. 500+ meters of adventure and lazy rivers. One EPIC experience. Aqua Nick is a Nickelodeon-themed water park that satisfies the whole family. Guests of Nickelodeon Hotels & Resorts Riviera Maya can enjoy complimentary unlimited access during their stay. (Outside guests can purchase a day pass.) Just hop on the shuttle (located outside the lobby and throughout the resort) and find the majestic Mayan-inspired entrance to this wondrous water haven.
Ready, set, it's time to get wet!
Join your younger kids as they embark on an imaginative journey at PAW Patrol Adventure Bay with their favorite PAW Patrol friends. Multi-level play structures, packed with interactive water features all over, offer exploratory paths on the way up and fun slides on the way down. Kid-friendly slides like the Puppy Plunge or Hero Half Pipe make for an unforgettable day under the sun.
Older kids, teens, and adults can unleash their inner thrill-seeker at Soak Summit, a 59-foot-tall tower with jaw-dropping views of the park. Soak Summit contains multiple levels and 10 exhilarating water slides. Some standouts include one of our fastest rides, "Tidal Twister," where guests tackle steep slopes, and the "Epic Plunge," which starts with a trapdoor free fall that stops passersby in their tracks.
After all the adrenaline simmers down, families can relax and take in the Caribbean breeze at cabanas available for rent. Jump right back into the fun at Slime Spot, Bikini Bottom Beach, or the Activity Pool. Shout "Cowabunga!," as you splash into the Activity Pool while the wave ball creates ocean-like ripples. Reach new heights at the climbing wall or defy water altogether with the water walk system. We're just skimming the surface of our top Aqua Nick secrets. From themed sculptures to Adventure River to Super Sliming, when it comes to water parks Nickelodeon brings all the fun.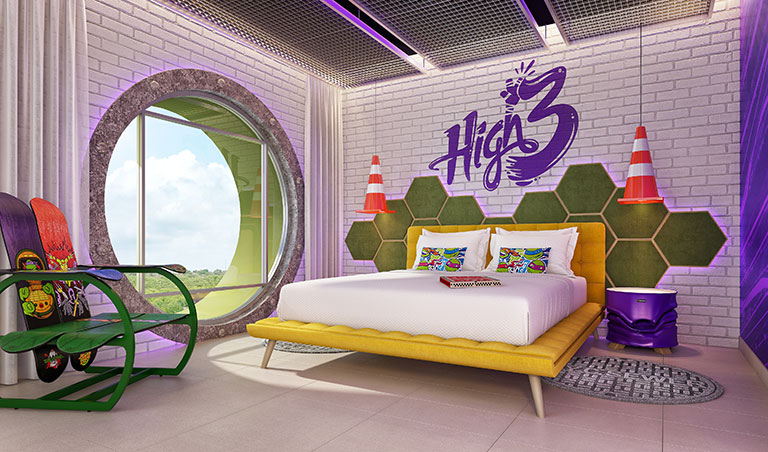 LUXURY ACCOMMODATIONS TAKE THIS RIVIERA MAYA, MEXICO RESORT TO THE NEXT LEVEL
Of all the new hotels in Riviera Maya, there are a number of reasons why the 280 suites at Nickelodeon Hotels & Resorts Riviera Maya impress. Maybe it's the fact that all suites are seaside with astonishing views of the turquoise Mexican Caribbean Sea or it could be that all suites have a swim up pool. Either way, you won't want to miss one night in a Nick suite.
These suites are large and inviting, each with two bathrooms and endless comfort. All suites have the option to connect for larger parties and feature either swim-up or balcony swim-up pool options. The ground floor swim-up suites all feature direct access to the resort's swimming pools.
The suites were thoughtfully designed to fulfill your needs, like 24-hour in-room dining or kid-sized bathrobes. Choose from seven upscale suite styles with bright, modern and playful touches that showcase Nickelodeon in all its joyous fun!
If you want private butlers to keep you pampered throughout your stay, you can book Signature Suites dedicated to specific Nickelodeon characters. The Pineapple Suite is inspired by SpongeBob SquarePants' pineapple home under the sea and makes you feel as if you're instantly transported into the show itself. While the Big Kahuna Suite draws you into sophistication by paying tribute to the history of Nickelodeon animation.
The Lair Suite is the first of its kind at Nick Resorts — an entire subterranean lair dedicated to the Teenage Mutant Ninja Turtles. Super fans will love the nods to the different versions of the Turtles throughout the years and jump at the chance to throw a private pizza party. Retreating to your shell at the end of an eventful day in Riviera Maya will be the cherry (or in the Turtles case, the pepperoni) on top of your exciting family vacation.
EXPERIENCE ENTERTAINMENT THAT EXCITES GUESTS AT EVERY TURN
This Nickelodeon Resort in Mexico has a large variety of entertainment options and opportunities for character Meet & Greets. That means more familiar faces walking around and more chances to encounter them! You can catch Blue from Blue's Clues & You! just before mail time, high-five Dora the Explorer or Diego from Go, Diego, Go!, and take photos with SpongeBob, Squidward, and Sandy Cheeks. Go for a stroll around the resort, participate in one of our self-directed scavenger hunts, and explore. You never know who else will turn up! Rumor has it that the PAW Patrol, Shimmer & Shine, Butterbean, and more characters love hanging out at Riviera Maya.
Visit Nickelodeon Place, a themed complex with Plaza Orange, Club Nick, and the Main Stage. There, you can catch a weekly array of shows and performances, like Slime Time Live – the trivia and interactive game show where winners compete for the ultimate Nickelodeon honor…getting Slimed!
The mess continues at Slime Spot where new editions of Nick Live! Poolside pull contestants right out of the water to answer questions, play games, and get a dousing of our legendary Nickelodeon Slime. After you wipe off the green, step into the orange for the Orange Carpet Event at Plaza Orange. More offerings include Slime Nights, Fiestas, Water Polo, and more. The choice is yours! Just remember to fit in some me-time and decompress at the lavish NÁAY SPA for some much-needed pampering.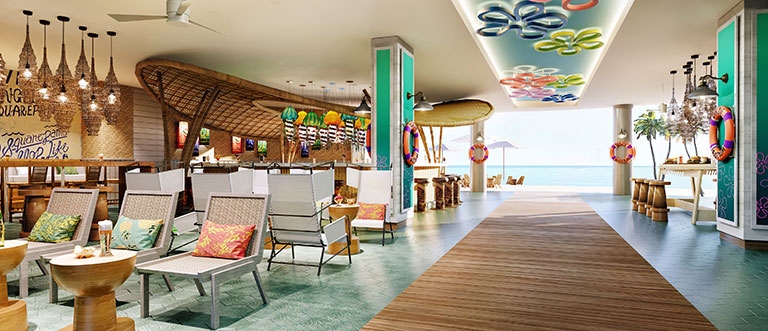 DIG INTO THESE GOURMET INCLUSIVE® FOOD AND DRINK OPTIONS
Guests can master the art of eating well at our five Gourmet Inclusive® restaurants, the Gourmet Corners spot, or our themed bars. Our chefs cater to any type of food allergy or dietary restriction and have special menus for the little ones.
At an additional cost, start the day with some of your favorite Nickelodeon friends from PAW Patrol, SpongeBob SquarePants, Dora the Explorer, and Fairly Odd Parents at the Pajama Jam character breakfast. Then take your taste buds around the globe at Yacht Club World Cuisine or to Piazza Restaurant for a slice with a Teenage Mutant Ninja Turtles photo op. If 90s nostalgia is what you're after, look no further than Good Burger™, a playful burger joint classic Nickelodeon experience. Afterwards, shimmy on down to the Snick Lounge™ for games, sports, and live music on the iconic Big Orange Couch.
Timmy Turner wishes he could get a taste of our Cosmo or Wanda Swim Up Bars, which serve a wide selection of spritzy virgin and alcoholic beverages that spruce up your pool days. In addition, Bikini Bottom Bar™ & Gourmet Corner is a SpongeBob SquarePants hub and laid-back beachside hangout with stellar views of the Caribbean Sea. It's perfectly designed to make you feel right at home in your own Nickelodeon paradise.
RESERVE YOUR SPOT AT THE ALL-INCLUSIVE RIVIERA MAYA LUXURY RESORT FOR ALL AGES
Nickelodeon Hotels and Resorts Riviera Maya is non-stop fun for everyone. Teens can make a splash on the thrilling slides at Aqua Nick, parents can reminisce on classic Nickelodeon shows at bars and lounges, and kids can watch their favorite Nickelodeon characters come to life all around the resort. The highly anticipated Nickelodeon Hotels & Resorts Riviera Maya will exceed your expectations and create a memorable trip that will last a lifetime. End.
Exclusive promo!  Book any stay at Nickelodeon All Inclusive Resorts and get a  FREE Private Family Sliming!  Contact us today!